Micro-Computing Platforms to Develop Future IoT products using standard JavaScript, on Low Cost Microcontroller Platforms.
"Our Goal is to let people focus on developing Five Star Products, without worrying about platform stability and cost."   
-AkhilaHardik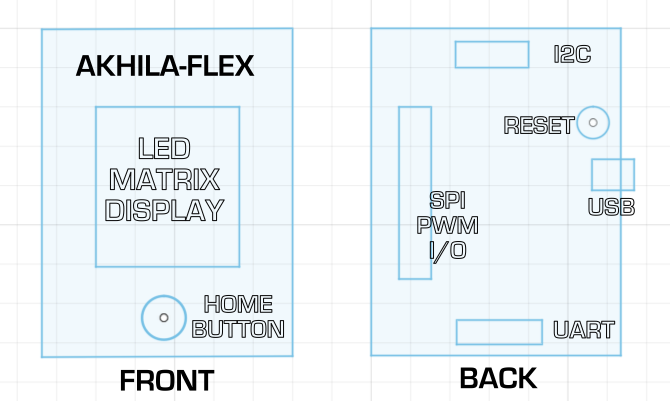 IN PRODUCTION
The 'Akhila-Flex 0' project team has turned the prototype into the final product.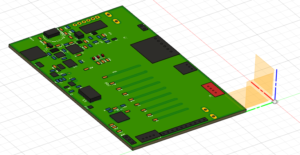 With all-new way to do Embedded Software Development, asCode is a Unified Development Environment with Zero* Development Setup.  asCode builds apps that runs on various Akhila-Flex platforms, often without changing a single line of code.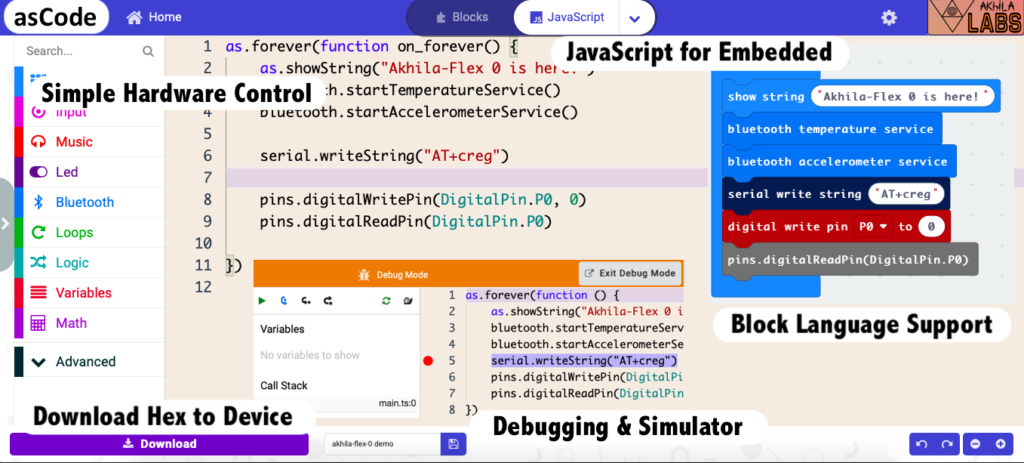 Write simpler code in JavaScript and Python for Embedded Platforms that clearly represents the User Experience and Behaviour of the product.
The asCode IDE takes care of processor and Controller level optimisations and delivers optimum binary.
Developers in general struggle with setting up compilers, toolchains, debugging environment, Flashing environment etc, which takes lot of time in project development cycle.
'asCODE' tools takes care of this pain to let developers focus on what is important for the rapid product development.
Combined with Akhila-Flex hardware & software technologies, the generated binaries can be programmed from Cloud IDE or Mobile directly without any developer tools setup needed.
Cloud IDE with ready-to-use development environment
Code Editor (JavaScript and Python)
Rich JavaScript and Python APIs for accessing hardware features like Bluetooth, Display, I/O Pins, UART, I2C and more.
Simulator for seamless development workflow. 
Drag/Drop Flashing for programming of built binary over USB.
Mobile App Flashing for Over The Air(OTA) programming of built binary wirelessly.
Cross-platform Mobile SDK for making rich IoT UI applications for wireless hardware Monitor and Control.
Offline IDE is also available for Free Download.
Use the same technology that Code.org and WhitehatJr where user can create Embedded program by 'pulling' and 'drag-drop' blocks into IDE.
In the background, the JavaScript and Python code would be automatically generated.
One Platform, Many Applications
Whether it is Agriculture, Home Automation, Industrial Automation, Healthcare, Robotics or Covid-19 solutions… Akhila-Flex platform's Flexible, Scalable and Extendible architecture helps making various applications out of single platform.
At Akhila-Labs, we believe the world shall be a better place, and technology is the way for the same.
To make it easy for our Customers and Developers with Manufacturing their own hardware, we have various Akhila-Flex Membership plans starting as cheap as 99$/year.
We are happy to invite you to be part of our Forum.
Support, Custom Designs and Partner Network
Along with Free* forum support for Akhila-Flex members, AkhilaLabs Expert Partner Network ensures you are covered with support and skills for any customising of Akhila-Flex designs for hardware/software and mass manufacturing as needed, at lower cost.
With complemented Eco-System and Solutions from the AkhilaLabs Partners, we also have you covered to save TIME, Development COST and Design Success RISKs by adapting Application specific Hardware and Software solutions readily available from our Partners.
* Akhila-Flex members gets Free forum support along with Akhila-Flex Membership.
Design is the Way, to Save Project and it's Cost.
Hire the Product Design Experts for your Next Design.