The Internet of Things is gradually gaining momentum and the hype surrounding the technology is only growing. In fact, the number of connected devices is predicted to reach an astonishing 50 billion units. The increase in connectivity of the internet globally and high adoption of devices such as tablets and smartphones have raised the global demand for IoT.
➥IoT is a network of objects embedded with electronics, software, network connectivity and sensors. IoT aids to build smart communication environments like smart transportation, smart homes, smart shopping, and smart healthcare.
➥AkhilaLabs assists enterprises, start-ups and OEMs to make connected devices and IoT gateways communicating over wireless connectivity. Team AkhilaLabs also expert in cloud collaboration solutions and services (SaaS, PaaS, migration, integration) to serve cloud-ready IoT solutions to various industries.
➥AkhilaLabs expert team constantly researches on emerging technology To turn standalone devices into connected smart systems and then to connected smart ecosystems.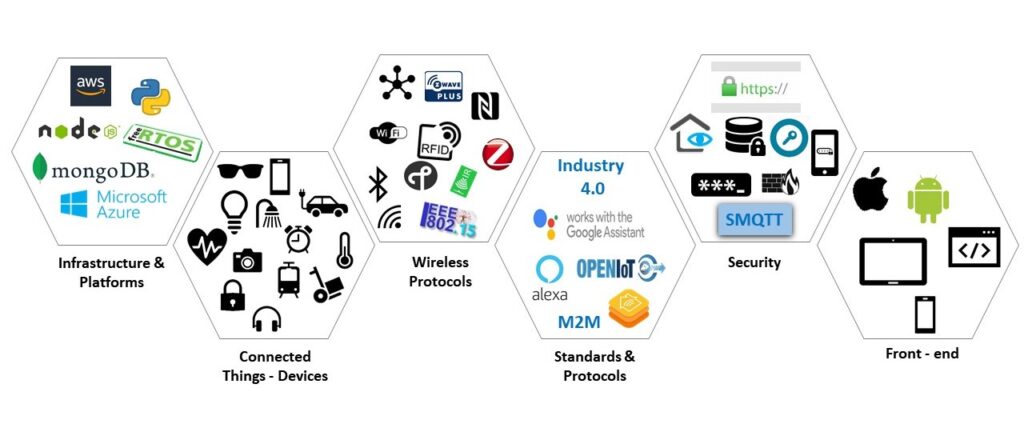 Our Focus:
➥Consumer IoT: wearables, smartphones, Smart clothes and glasses, connected vehicles, smart house and tourism
➥Infrastructure IoT: Smart homes/ Buildings/ Offices, smart cities, connected parks and Smart Streets lights
➥Industrial IoT: a distributed system of sensors, M2M- Manufacturing, Energy, Utilities
➥Healthcare IoT: connected tracking devices and health monitoring systems
IoT Services:
➥Concept Feasibility study & PoC (Proof of Concept)
➥Design, develop, integrate, deploy and manage end to end IoT processes.
➥Integrate IoT solutions with existing enterprise architecture.
➥Cloud integration and maintenance support
➥Secure FOTA services for IoT products
Technology Expertise:
➥AkhilaLabs provides solutions for sensor integration, hardware designing, firmware development, IoT server and cloud solutions.
➥End-device application development with multiple protocols and cross-platform support
➥Data acquisition and Mesh networking across different sensors.
➥Device IoT framework and enablement
➥Mesh networking protocols based on IEEE 802.15.4 like 6LowPAN, ZigBee, MiWi
➥Communication over Wi-Fi between sensor node and gateway
➥Cloud-based IoT solution including storage, sensor monitoring and controlling
➥Mobile application design and development on both the platform – iOS and android
IoT Testing:
➥Hardware manual and automated testing
➥System Integration Testing
➥Device field testing and Multi-Node Testing
➥Platform testing
➥Mobile application testing